Maiden Speech, Dáil Éireann
Maiden Speech, Dáil Éireann
March 19, 2020.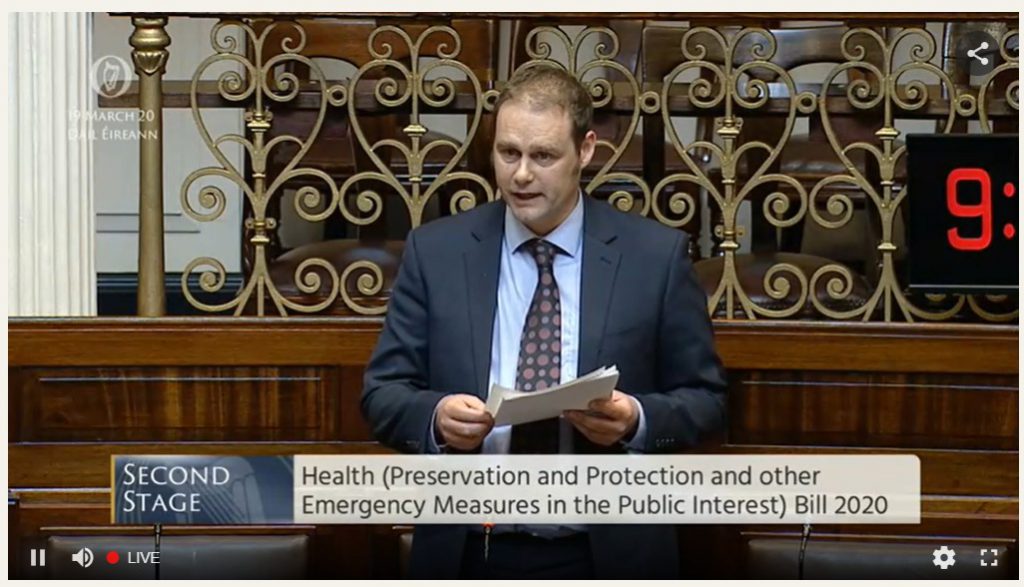 Recently elected TD for Waterford, Marc Ó Cathasaigh made his maiden speech before a much reduced Dáil during last Thursday's debate on emergency legislation to tackle the Covid-19 health crisis. Only one third of elected TDs were allowed to enter the chamber in order to minimise the chance of transmission during the debate.
Mr. Ó Cathasaigh, who was speaking in his role as Green Party Spokesperson for Social Protection, praised some of the measures introduced to help those who have lost employment due to the enfolding pandemic, but drew attention to some of the groups he identified as being neglected in the bill.
'I do not see workers on short-term visas here, many of whom are front-line healthcare workers, who now worry about their legal status in this country, even as they combat the spread of the virus in our communities. I do not see undocumented workers in the Bill, the people who through circumstance stand wide open to exploitation and risk.
He also took the opportunity to thank the many frontline workers who have been working to combat the effects of the virus.
'I stand in the shadow of many today: Department officials who have reacted quickly to frame supports, medical advisors who have worked day and night to design a response to the impending surge, front-line staff from doctors and nurses to drivers and shop workers. I stand in the shadow too of my fellow citizens. We have all been asked to do things that we scarcely would have thought possible a fortnight ago.
Video of speech available here:
https://www.facebook.com/ocathasaighmarc/videos/589353908332856/
Full text of speech available here:
https://www.oireachtas.ie/en/debates/debate/dail/2020-03-19/speech/15/