Funding for Waterford under the Town and Village Renewal Scheme
Funding for Waterford under the Town and Village Renewal Scheme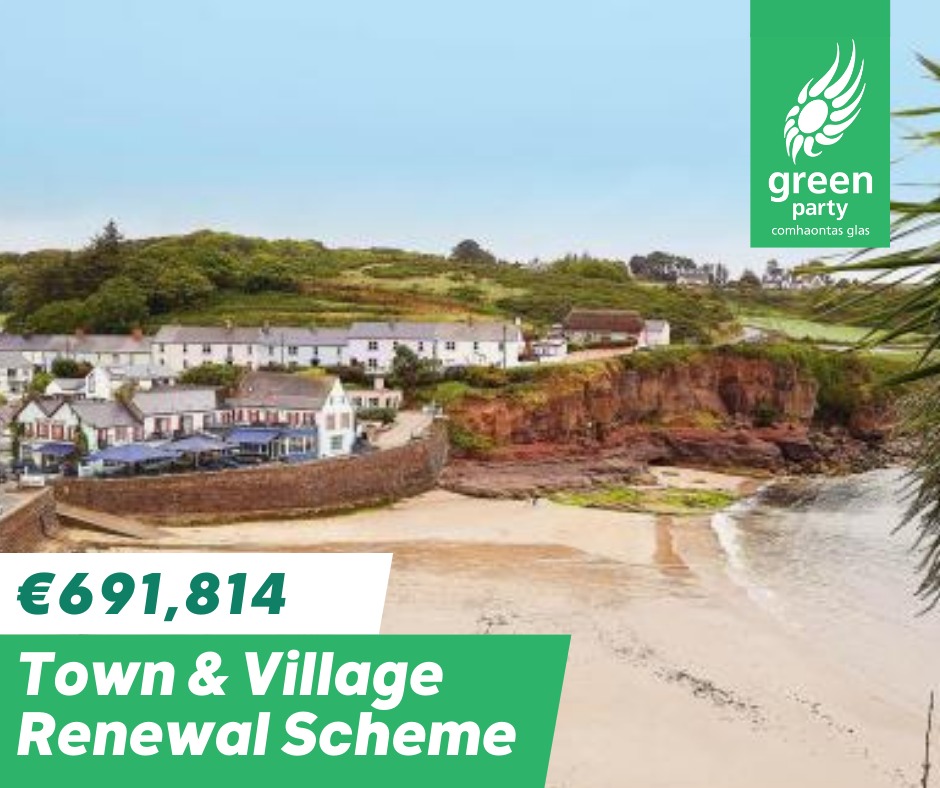 Waterford Green Party TD Marc Ó Cathasaigh has today welcomed €691,814 funding for four key Waterford projects which will help tackle vacancy and dereliction and bring landmark town centre buildings back to life. The funding was allocated under the Town and Village Renewal Scheme as part of Our Rural Future and will see buildings turned in to multi-purpose spaces with remote-working hubs front and centre. It feeds into Town Centre First policy which is a core Green Party policy approach which emphasises the economic burden of vacancy and dereliction in our towns and outlines ways to address them. Deputy Ó Cathasaigh spoke on this issue in the Dáil this week.
Speaking after the announcement, Deputy Ó Cathasaigh said:
"This is great news for Ballyduff, Dunmore East, Touraneena and Villierstown – four great Waterford communities who will experience many benefits from this funding. Remote working came into it's own during the pandemic and it brought economic and social benefits to our smaller towns and villages as people were spending more time and money in their own communities. This investment will build on that and will give people the opportunity to continue to work remotely either full-time or as part of a hybrid approach while spending more time closer to home. This will have an impact on their work-life balance, their involvement in the community and will bring greater footfall to some towns and villages which had been hollowed out over the last couple of decades"
"Building remote-working into the communities is also giving an opportunity for improved public realm and open space in Dunmore East and a shop, café, youth hub and gym facility in Ballyduff with all four communities benefitting from the addition of multi-purpose facilities. The last two years of the pandemic have shown us how important our indoor and outdoor community spaces are and it's great to see this investment announced. I am delighted to see the ambitious plans brought forward by these Waterford communities and know that they will breathe new life and make a lasting difference. These plans build on our Town Centres First policy, a long term Green Party strategy to revitalise rural Ireland. "
"In the coming weeks, we will be announcing a further call for applications under the Town and Village Renewal Scheme, and I look forward to hearing about ambitious plans in more Waterford communities.
Dáil Contribution
The Waterford projects funded are:
Ballyduff – €250,000 – to bring a vacant derelict storehouse located in the village centre back to use as a multi-purpose space incorporating a shop, café, remote working/video-conferencing facilities, youth hub and gym facility.

Dunmore East – €250,000 – for the remediation of the Fisherman's Hall building for multi-purpose use and repurposing of rooms to facilitate remote working functionality and public realm and open space enhancement including access arrangement to Stony Cove.

Touraneena – €100,000 – for the repurposing of the first floor of Sliabh gCua Community Centre in Touraneena to facilitate multipurpose flexible usage including dedicated remote working space.

Villierstown – €91,814 – to fit out a multi-purpose community building with a remote working hub facility.