€4.79m funding for sports organisations in Waterford.
€4.79m funding for sports organisations in Waterford.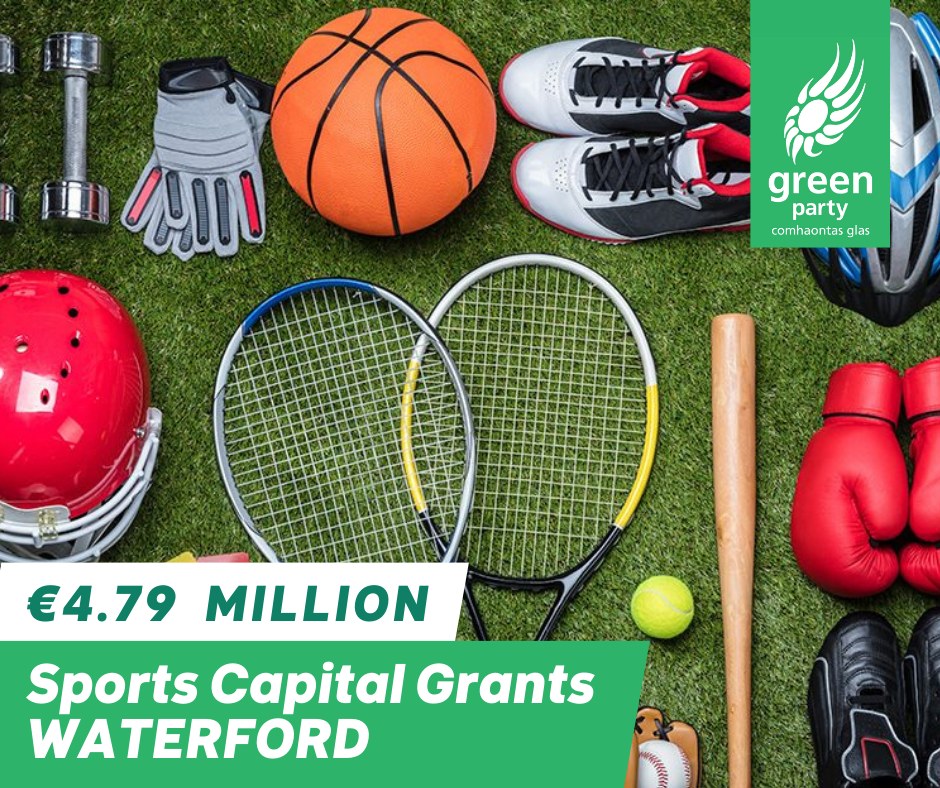 Green Party TD Marc Ó Cathasaigh welcomes €4.79million funding for sports organisations in Waterford following the announcement of the Sports Capital Programme allocations for 2022. The funding which is spread across 65 Waterford clubs and organisations will provide funding for projects over 16 different sports as well as scouting, community facilities, community games and multi sport projects. It was announced today by Minister Catherine Martin, the Minister for Tourism, Culture, Arts, Gaeltacht, Sport and Media.
Deputy Ó Cathasaigh paid tribute to the volunteers involved in advancing the projects allocated funding:
"I am delighted to see the huge spread of Waterford sports organisations listed in today's announcement, so many of which are run by volunteers and I would like to congratulate the volunteers behind each and every one of those applications. As you can see from the list of successful applicants, we are very lucky to have access to such an exciting range of sports within the city and county and today's announcement will support those organisations in improving their facilities and for the benefit of current and new members"
The Sports Capital Programme is the primary means of providing government funding for capital projects to sport and community organisations at local, regional and national level. As with previous rounds of the funding, this programme prioritised applications from disadvantaged areas, applications which will increase participation including female participation and disabled users and those which share facilities with other users and the wider community.
Deputy Ó Cathasaigh continued:
"The pandemic really highlighted the importance of sport to our society. Participating in sport brings physical and mental health benefits to and today's funding will help clubs and organisations improve their facilities and support existing and new members taking part in sport. We also get great pleasure as a nation from watching our clubs and our sporting heroes and that is something we really missed over the last two years. It will be great to see the benefits of this programme throughout our Waterford sporting community as it supports clubs involved in Gaelic games, soccer, squash, boxing, tennis rugby and more. Many of these clubs are at the heart of their communities and their growth will be good for all in the locality"
Some of the larger projects funded include €210,607 for WIT, €150,000 each for Waterford LGFA, St Annes Tennis Club, Tramore Tennis Club, Villa Football Club and Waterford City & County Council, €100,000 for Tramore AFC, €100,000 for Ballinameela Community Centre, €123,452 for Tramore GAA Club, €143,942 for Ballysaggart GAA club, €118,493 for Bonmahon GAA, €120,099 for Carbally Community Development Group. Projects funded range from a new running track, hurling walls and floodlights to astroturf, drainage, club house works, an active cycle project and more.
Appeals Process
I asked the Minister of State for Sport and the Gaeltacht, Jack Chambers, T.D., about the Appeals Process for Sports Capital Grant applications in the Dáil.
You can view the reply here.